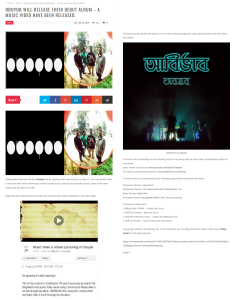 OBOYOB WILL RELEASE THEIR DEBUT ALBUM – A MUSIC VIDEO HAVE BEEN RELEASED.
The entire album is coordinated by the following organisations along with the band.
Production Partner: Metronome
Distribution Partner: ME Label/Mushroom Entertainment, Inc.
Radio Partner: Radio Dhol
Promotion Partner: Bangladeshi Band Music Fans Community
The band is made out of:
Rafiqul Alam TANNA – Guitars and Vocal
• MARZUQ Hussain – Bass and Vocal
• KASHFEE Mahmood Tusha – Guitars and Backing Vocal • TAHMID Hussain – Vocal; Drums and Percussions
So guys get ready for an amazing trip. In the meantime, you can enjoy the music video of their song "Ditiyo
Shotta" in the following link.
Dhaka based Psychedic Rockers Oboyob will be releasing their debut album on May-31. And not just that folks, it would be their tenth anniversary of their journey so far, and has also released a music video of one their songs from the album on 24th.
Regarding this amazing news, the band has published this official message on the event page.
https://www.youtube.com/watch?v=WaK2XKOTADM&feature=youtu.be&fbclid=lwAR1v-aVM0J1HmcWiHJQKSS- 3JG6k8jbLeRDmver-OPcVrxkHIOMnjeLtGg
Enjoy!!!
Sources: Mega Insane