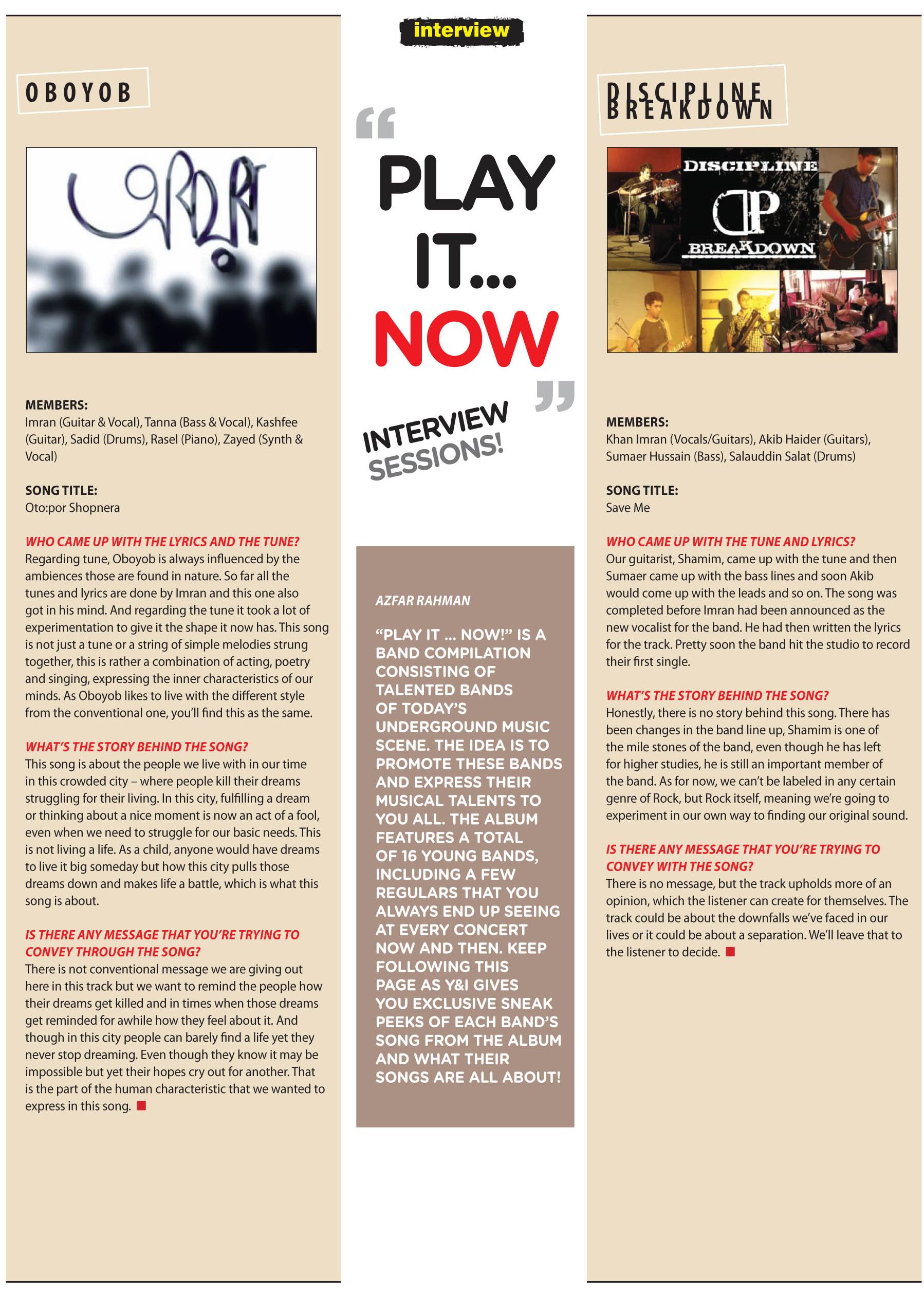 MEMBERS:
Imran (Guitar & Vocal), Tanna (Bass & Vocal), Kashfee (Guitar), Sadid (Drums), Rasel (Piano), Zayed (Synth & Vocal)
SONG TITLE: Oto:por Shopnera
WHO CAME UP WITH THE LYRICS AND THE TUNE? Regarding tune, Oboyob is always influenced by the ambiences those are found in nature. So far all the tunes and lyrics are done by Imran and this one also got in his mind. And regarding the tune it took a lot of experimentation to give it the shape it now has. This song is not just a tune or a string of simple melodies strung together, this is rather a combination of acting, poetry and singing, expressing the inner characteristics of our minds. As Oboyob likes to live with the different style from the conventional one, you'll find this as the same.
WHAT'S THE STORY BEHIND THE SONG?
This song is about the people we live with in our time in this crowded city – where people kill their dreams struggling for their living. In this city, fulfilling a dream or thinking about a nice moment is now an act of a fool, even when we need to struggle for our basic needs. This is not living a life. As a child, anyone would have dreams to live it big someday but how this city pulls those dreams down and makes life a battle, which is what this song is about.
IS THERE ANY MESSAGE THAT YOU'RE TRYING TO CONVEY THROUGH THE SONG?
There is not conventional message we are giving out here in this track but we want to remind the people how their dreams get killed and in times when those dreams get reminded for awhile how they feel about it. And though in this city people can barely find a life yet they never stop dreaming. Even though they know it may be impossible but yet their hopes cry out for another. That is the part of the human characteristic that we wanted to express in this song.
"PLAY IT… NOW!" IS A BAND COMPILATION CONSISTING OF TALENTED BANDS OF TODAY'S UNDERGROUND MUSIC SCENE. THE IDEA IS TO PROMOTE THESE BANDS AND EXPRESS THEIR MUSICAL TALENTS TO YOU ALL. THE ALBUM FEATURES A TOTAL OF 16 YOUNG BANDS, INCLUDING A FEW REGULARS THAT YOU ALWAYS END UP SEEING AT EVERY CONCERT NOW AND THEN. KEEP FOLLOWING THIS PAGE AS Y&I GIVES YOU EXCLUSIVE SNEAK PEEKS OF EACH BAND'S SONG FROM THE ALBUM AND WHAT THEIR SONGS ARE ALL ABOUT!
Sources: The Independent