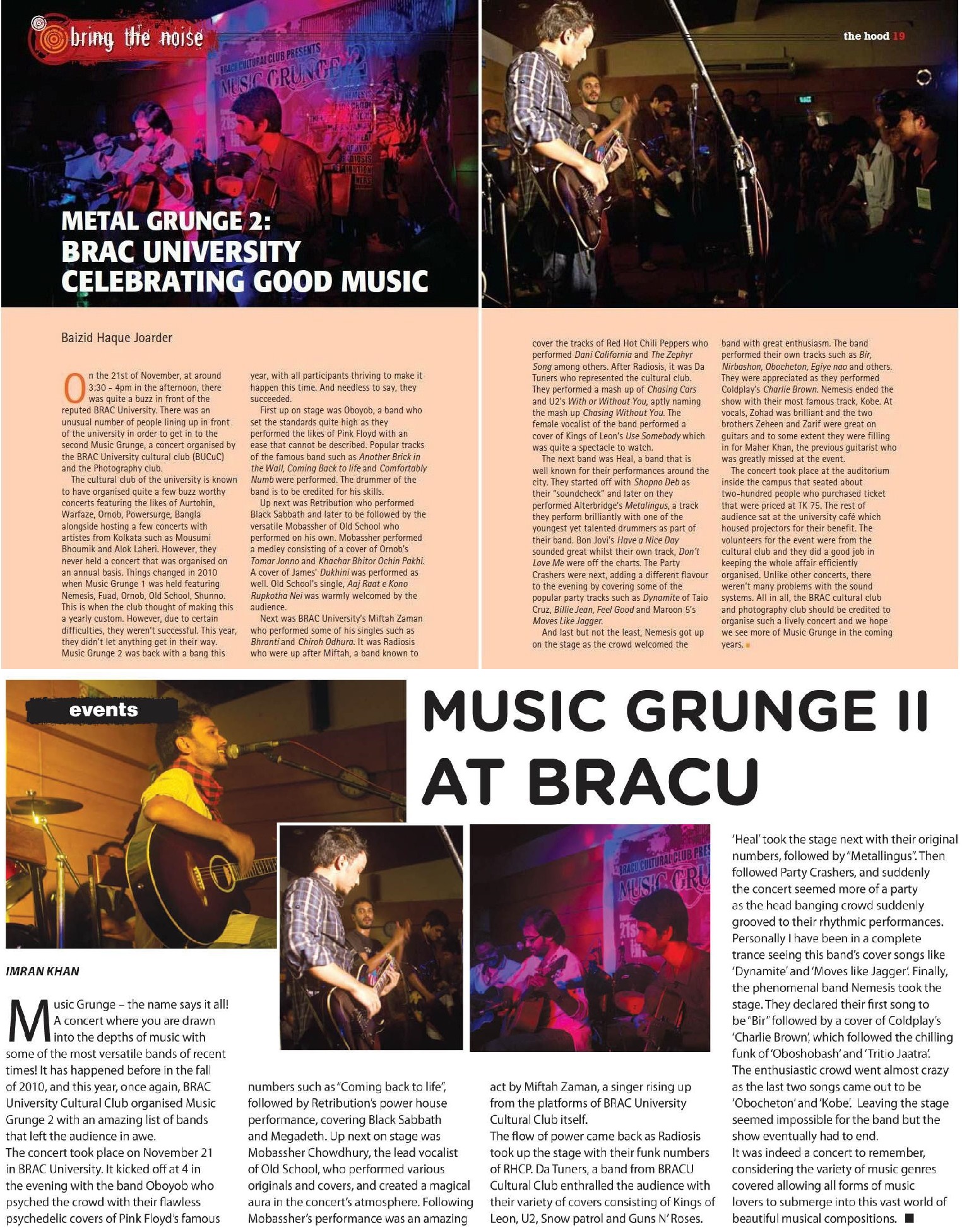 On the 21st of November, at around 3:30- 4pm in the afternoon, there quite a buzz in front of the reputed BRAC University. There was an unusual number people lining up in front of the university in order to get in to the second Music Grunge, a concert organised by the BRAC University cultural club (BUCUC) and the Photography club.
The cultural club. f the university is known to have organised quite a few buzz worthy concerts featuring the likes of Aurtohin, Warfaze, Ornob, Powersurge, Bangla alongside hosting a few concerts with artistes from Kolkata such as Mousumi Bhoumik and Alok Laheri. However, they never held a concert that was organised on an annual basis. Things changed in 2010 when Music Grunge 1 was held featuring Nemesis, Fuad, Ornob, Old School, Shunno. This is when the club thought of making this a yearly custom. However, due to certain difficulties, they weren't successful. This year, they didn't let anything get in their way. Music Grunge 2 was back with a bang this
year, with all participants thriving to make it happen this time. And needless to say, they succeeded.
First up on stage was Oboyob, a band who set the standards quite high as they performed the likes of Pink Floyd with an ease that cannot be described. Popular tracks of famous band such as Another Brick in the Wall, Coming Back to life and Comfortably Numb were performed. The drummer of the band is to be credited for his skills. Up next was Retribution who performed Black Sabbath and later to be followed by the versatile Mobassher of Old School who performed on his own. Mobassher performed a medley consisting of a cover of Ornob's Tomar Jonno and Khachar Bhitor Ochin Pakhi. A cover of James' Dukhini was performed as well. Old School's single, Aaj Raat e Kono Rupkotha Nei was warmly welcomed by the
audience. Next was BRAC University's Miftah Zaman who performed some of his singles such as Bhranti and Chiroh Odhura. It was Radiosis who were up after Miftah, a band known to
MERS
сыпает
cover the tracks of Red Hot Chili Peppers who performed Dani California and The Zephyr Song among others. After Radiosis, it was Da Tuners who represented the cultural club. They performed a mash up of Chasing Cars and U2's With or Without You, aptly naming the mash up Chasing Without You. The female vocalist of the band performed a cover of Kings of Leon's Use Somebody which
was quite a spectacle to watch. The next band was Heal, a band that is well known for their performances around the city. They started off with Shopno Deb as their "soundcheck" and later on they performed Alterbridge's Metalingus, a track they perform brilliantly with one of the youngest yet talented drummers as part of their band. Bon Jovi's Have a Nice Day sounded great whilst their own track, Don't Love Me were off the charts. The Party Crashers were next, adding a different flavour to the evening by covering some of the popular party tracks such as Dynamite of Taio Cruz, Billie Jean, Feel Good and Maroon 5's Moves Like Jagger.
And last but not the least, Nemesis got up on the stage as the crowd welcomed the
band with great enthusiasm. The band performed their own tracks such as Bir, Nirbashon, Obocheton, Egiye nao and others. They were appreciated as they performed Coldplay's Charlie Brown. Nemesis ended the show with their most famous track, Kobe. At vocals, Zohad was brilliant and the two brothers Zeheen and Zarif were great on guitars and to some extent they were filling in for Maher Khan, the previous guitarist who was greatly missed at the event.
The concert took place at the auditorium inside the campus that seated about two-hundred people who purchased ticket that were priced at TK 75. The of audience sat at the university café which housed projectors for their benefit. The volunteers for the event were from the cultural club and they did a good job in keeping the whole affair efficiently organised. Unlike other concerts, there weren't many problems with the sound systems. All in all, the BRAC cultural club and photography club should be credited to organise such a lively concert and we hope we see more of Music Grunge in the coming years.
events
MUSIC GRUNGE II AT BRACU
M usic Grunge the name says it all! A concert where you are drawn into the depths of music with some of the most versatile bands of recent times! It has happened before in the fall of 2010, and this year, once again, BRAC University Cultural Club organised Music Grunge 2 with an amazing list of bands that left the audience in awe. The concert took place on November 21
in BRAC University. It kicked off at 4 in
the evening with the band Oboyob who
psyched the crowd with their flawless
psychedelic covers of Pink Floyd's famous
numbers such as "Coming back to life", followed by Retribution's power house performance, covering Black Sabbath and Megadeth. Up next on stage was Mobassher Chowdhury, the lead vocalist of Old School, who performed various originals and covers, and created a magical aura in the concert's atmosphere.
Sources: Daily Sun and The Independent