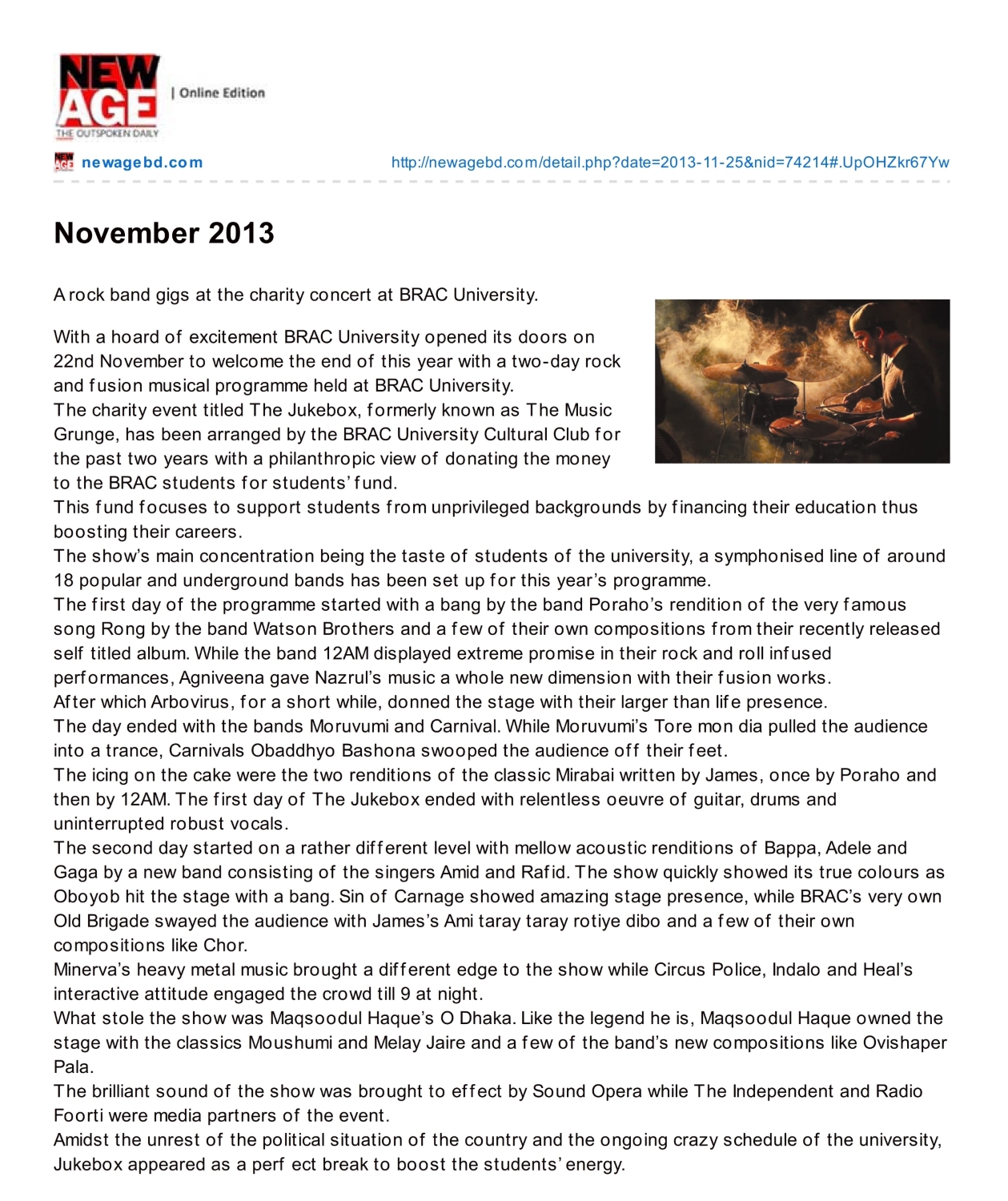 November 2013
A rock band gigs at the charity concert at BRAC University.
With a hoard of excitement BRAC University opened its doors on
22nd November to welcome the end of this year with a two-day rock
and fusion musical programme held at BRAC University. The charity event titled The Jukebox, formerly known as The Music Grunge, has been arranged by the BRAC University Cultural Club for the past two years with a philanthropic view of donating the money to the BRAC students for students' fund.
This fund focuses to support students from unprivileged backgrounds by financing their education thus boosting their careers. The show's main concentration being the taste of students of the university, a symphonised line of around
18 popular and underground bands has been set up for this year's programme. The first day of the programme started with a bang by the band Poraho's rendition of the very famous song Rong by the band Watson Brothers and a few of their own compositions from their recently released self titled album. While the band 12AM displayed extreme promise in their rock and roll infused performances, Agniveena gave Nazrul's music a whole new dimension with their fusion works. After which Arbovirus, for a short while, donned the stage with their larger than life presence. The day ended with the bands Moruvumi and Carnival. While Moruvumi's Tore mon dia pulled the audience
into a trance, Carnivals Obaddhyo Bashona swooped the audience off their feet.
The icing on the cake were the two renditions of the classic Mirabai written by James, once by Poraho and then by 12AM. The first day of The Jukebox ended with relentless oeuvre of guitar, drums and uninterrupted robust vocals.
The second day started on a rather different level with mellow acoustic renditions of Bappa, Adele and Gaga by a new band consisting of the singers Amid and Rafid. The show quickly showed its true colours as Oboyob hit the stage with a bang. Sin of Carnage showed amazing stage presence, while BRAC's very own Old Brigade swayed the audience with James's Ami taray taray rotiye dibo and a few of their own compositions like Chor.
Minerva's heavy metal music brought a different edge to the show while Circus Police, Indalo and Heal's interactive attitude engaged the crowd till 9 at night. What stole the show was Maqsoodul Haque's O Dhaka. Like the legend he is, Maqsoodul Haque owned the
stage with the classics Moushumi and Melay Jaire and a few of the band's new compositions like Ovishaper Pala. The brilliant sound of the show was brought to effect by Sound Opera while The Independent and Radio
Foorti were media partners of the event.
Amidst the unrest of the political situation of the country and the ongoing crazy schedule of the university, Jukebox appeared as a perf ect break to boost the students' energy.
Sources: New Age